Stratus Panel - General > Info
The initial landing panel when accessing Webscale Stratus is the Info Panel.
Account Name - Assigned to your environment upon initial provisioning. Cannot be changed.
Stratus Template - Pre-configured Nginx server template. Is assigned based on the version of your software.
PHP Version - Active version of PHP running in the environment.
Docroot - The root directory in which the Magento store code is located.
Environment Type - Production or Development. Not to be confused with the production and development Magento modes.
Environment SSL - The type of Secure Socket Layer certificate applied to the environment.
Varnish Status - Indicates if Varnish caching is enabled.
Elasticsearch Status - Indicates if Elasticsearch is running.
Sphinx Status - Indicates if Sphinx search is enabled.
Autoscaling - Indicates is Autoscaling is enabled.
Status Indicators
When you come into the Info Panel, you will notice a colored circle in the upper left of the sidebar menu, just to the left of your Environment Name.
A Green circle means that all status checks have registered as confirmed.
A Yellow circle means that one or more status checks need to be tended to, but that the environment is otherwise running.
A Red circle means that one or more status checks have failed and require immediate attention.
To determine what statuses have failed, see the Environment Status area (see below for a further explanation).
General Info
This panel give you an overview of your Webscale STRATUS environment, and which services are running and/or enabled.

Environment Status Info
This important section shows what "pods" are currently running and illustrates the availability of the pods and all other systems necessary for a fully-functioning Webscale STRATUS environment.
Generally, an environment will have one service pod and one PHP-FPM pod running. As environments autoscale to meet traffic demands, additional PHP-FPM pods may "spin up" and will be shown in this list.
Other systems that are necessary for production environments (i.e., these services may not all be needed for development environments), include:
Domain Verification — your domain is tested to make sure all DNS records are properly configured. See the DNS Panel for more on configuring your domain and DNS Recommendations for additional guidance.
Health Check — if Webscale's system finds a condition that prevents the optimized delivery of your site, it will issue a ticket to you and our support staff. For more about Health Check parameters, see the "Health Checks" section of this Knowledge Base (in the sidebar menu).
Terms of Service — this check confirms that you have met all the Terms of Service conditions, such as Google Analytics connection, in support of your production environment.
Malware — Webscale regularly scans installations to make sure no apparent malware is present.
You may trigger a re-assessment of the Environment Status information by clicking the small refresh icon in the upper right-hand of the panel.
Personalizing Your Environment
Customized names are helpful if you are managing many sites on Webscale STRATUS. Each project and environment can have its own name. You might label them according to purpose. For example, if you have 3 environments on our Pro plan, where one is the live site and two are for development, you might name the project as the website name and the environments as Development, Staging, and Live.
Update the name by clicking the name of the project or environment in the upper left hand menu. Once you update the name, simply click UPDATE to save your change.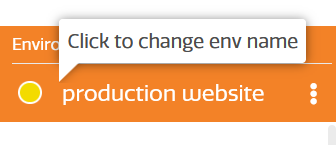 Switching Webscale STRATUS Projects or Environments
To switch projects or environments:
Click the sub-menu (three vertical dots) to the right of your project or environment name at the top of the left sidebar menu.
Select the project or environment to which you wish to change in the modal dialogue.
Click CHANGE.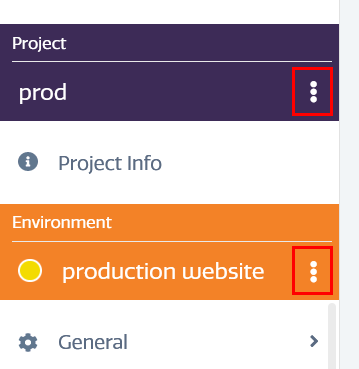 Feedback
Was this page helpful?
Glad to hear it! Have any more feedback? Please share it here.
Sorry to hear that. Have any more feedback? Please share it here.
Last modified January 1, 0001